Studio Ghibli
is Hayao Miyazaki's wonderful animation studio and now even a museum in Tokyo. I took the above photo while visiting, its a replica of the colossus from Laputa (Castle in the Sky) and it sits on top of the museum.
Organized like a mini Disneyland, the museum is a small gem and its located in Mitaka (some 30 minutes train from Shibuya station), after a short walk from the Mitaka station to the museum grounds.
The walk from Mitaka station to the Museum.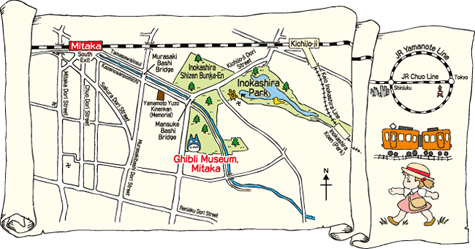 However, if you want to buy tickets to Studio Ghibli you will find that it's not that easy.
The "purchase procedures" are listed on the
official website
,
here
. However, the instruction can be quite daunting and a bit of a pain, especially if you dont want to waste time figuring out which "official" travel agency has these tickets and/or if they are far away from your dwelling.
But you get 1 useful piece of information: the ticket is made of 2 parts: a "passport and voucher" and a "movie ticket."
The "passport and voucher" will get you into the museum.
The movie ticket (image below) will get you into a short movie viewing inside the museum.
With this in mind, the other thing to understand is that the ticket should cost 1000 Yen per person. Which is currently around $12.
If you lookup online travel agencies, they will ask for +$70 per person, and give you the tickets and a guide. But if you want to be a bit more thrifty, here is a very simple way to get your tickets I used last time I went to Tokyo. I know, its a no brainer... but I hadnt thought of it till then :)
1) Email the concierge of the hotel you will be staying in Japan.
2) Ask them to buy the number of tickets you want.
3) Tell them the time slot you want to reserve for (there should be a slot at every hour starting at 10AM, but dont quote me on that).
4) They might ask you for a 5% commission on the sales.
5) Get your tickets at check-in.
Keeping in mind that the reservations are mandatory, and that they go away pretty quick (I never managed to get tickets with only 3 or 4 day lead times), you will want to make your reservations in advance.
Another way to buy the tickets easily is if you have a friend in Tokyo - just call him up and ask him to buy the tickets at a Lawson convenience store (very similar to 7/11 but not to be confused with 7/11 which doesn't have the tickets - they are everywhere).
As for photos, here are the few photos I managed to take while I last visited.
While the place is MAGICAL, a serious bummer is that they have designated spots for photos and you end up missing out on most of the good stuff.
The bridge in Mitaka's Park:
The ticket to the movie.
Details of a fountain with cats.
The cafe menu.
Another statue of the Laputa colossus.